The History of Second Missionary Baptist Church
The history of Second Missionary Baptist Church is a rich and varied history common to the locals who grew up in the surrounding area. Founded in the Spring of 1886, Reverend Henry Adams sought to build a Baptist Church in the Old Wilmington Road Area. With the help and assistance of local deacons, worship service began in the Old Holcomb House on Highway 87 South.
The following is a list of former pastors who served here at Second Missionary Baptist Church: Rev. Henry Adams, Rev. T.B. Watkins, Rev. Morrisey, Rev. C.K. Boyd, Rev. Rhone, Rev. Duncan Devane, Rev. Foster Melvin, and Rev. Hawkins.
In 1933, Rev. Charles E. Perry was elected pastor and served until 1965. Rev. K.S. David was pastor until 1967 when Rev. Willie E. Beamon of Kinston, NC was elected. Rev. Dr. I.E. Swann served as pastor from 1986 until December 2019. Interim pastors from December 2019 to 1-8- 2021 was Rev. Ted Smith , Sr. and Rev. Larry Simmons from 1-8-2021 to 2-28-2021.
Rev.
Currently serving as our pastor, since February 2021, is Rev. Gregory L. Davis.
On September 24, 2002, we began building our new sanctuary and it was dedicated less than a year later. If you would like a more in-depth history of Second Missionary Baptist Church, contact the church clerk or Cumberland County Public Library Headquarters.
Second Missionary Baptist Church
Old Sanctuary
Second Missionary Baptist Church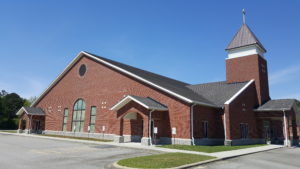 Monday, Wednesday and Friday,
10:00 a.m. to 4:00 p.m.
Tuesday and Thursday, 10:00 a.m. to 2:00 p.m.
Mrs. Teresa B. Marshall, Church Administrator
Tere
Sister Gwen McClendon, Clerk
CHURCH ANNOUNCEMENTS
In Observance of July 4th all churches office will be closed Monday.
Please keep all our sick and shut-in and bereaved families in your prayers.
Worship service for the Sick @ Shut-in Sunday's at 8:30 am, dial-in #701-779-9970. Alternate #206-451-6043.
The church will continue regular services each Sunday for Sunday School at 9:30 am and Morning Worship beginning at 11:00 am at limited capacity.
Come and join us in the multipurpose room on Wednesdays for Noon Day Prayer/Bible Study, taught by Rev. Ted Smith and Rev. Deborah Smith. We are studying the Book of John.
We invite you to Bible Study, Wednesday at 6 p.m. with Rev. Davis, Pastor will continue the study book entitled: Through the Bible.
Due to the rise of Covid-19 the following precautions will be taken at the church. Everyone entering the church must have a temperature check.
Masks are no longer mandatory for persons fully vaccinated. If you are not fully vaccinated, please wear a mask. If you feel uncomfortable, feel free to wear your mask.
We will continue to Web Stream Bible Study, Sunday School and Morning Worship on our website.
Second Baptist has added four accounts to the website: Twitter-2ndmbcnc – Instagram -2ndmissionarybaptistchurch, Facebook and You-Tube -Second Missionary Baptist Church.
Services begin this Sunday , July 3rd at 9:30 am with Sunday School Subject: "The Creating Word Becomes Flesh
", Scripture: John 1: 1-4.
Following at 11:00 am Rev. Davis will bring the message .
Cultural Arts back to school donations begin this Sunday until Aug. 14th.
Advisory meeting, Tuesday, July 5th at 6:00 pm.
3rd Quarterly Conference, Saturday July 9th at 11:00 am. Proposed Constitution and Bylaw changes are available on the table in vestibule; or can be viewed via the church secretary M-W-F 10:00 am to 2:00 pm.
SMBC Deaconess and Minister's wives are pleased to announce the "Deaconess Fashion Show", Saturday August 20, 2022 at Walker-Spivey from 2-5 pm.. All are invited to sign-up and participate. Sign-up sheets will be in the lobby. Contact any Deaconess or Minister's wife for details.
SMBC is
seeking more youth to join our Jr. Usher's Ministry. If interested, please contact Bro. Purdie.
PASTOR'S VISION STATEMENT
MEMORANDUM TO: The Membership of the Second Missionary Baptist Church, 522 Old Wilmington Rd. Fayetteville, NC, 28301
FROM: Reverend Gregory L. Davis, Pastor
SUBJECT: Pastor's Vision Statement for 2022
Brothers and Sisters, it is again, an honor to serve this beautiful body of believers that is the Second Missionary Baptist Church of Fayetteville, NC. Throughout my one year tenure serving this congregation, I have been intensely watching and praying and seeking God's guidance on where He wants me to lead this congregation going into our second year together. I therefore submit the following Vision Statement, which includes priorities, as we move the church Forward Together in 2022:
To educate the church on spiritual matters through interactive teaching, study, discussion, training and sermonic enlightenment, with the intention of growing a body of believers who emphasize spiritual matters over business or worldly matters.

To encourage all church leaders, prospective or otherwise, to attend spiritual training and study outside of Sunday 11am service, thereby not just being hearers of the Word, but doers of the Word also (see 2 Tim 2:15).

To identify, train, educate and prepare 3-5 deacons for service to SMBC and ultimately ordination through internal processes and the UMBA deacons training curriculum. The process of deacons' selection will also provide useful help to the deaconess ministry by virtue of the spousal support provided to the prospective deacons.

To live out the Malachi 3:10 Covenant by requiring all the church and ministry leaders to be accountable to The Lord and their church by giving their tithe, time, and talents to the church, completing their duties, whether assigned or voluntarily.

To refrain from paying dues and assessments to fund programs that were biblically designed to be funded out of the general church fund or treasury.
We as a church body have spoken loud and clear; we want a traditional church budget funded by the paying of tithes and giving of free will offerings!
To grow the SMBC young adult population (18-40) to a state of vibrancy in the church; supporting and understanding their uniqueness and generational differences. As a body, we seek to help the young adults bridge the gap between the world they live in and the 'calling out' of the world the Gospel demands.

To continuously welcome and embrace new members; helping them to work out their soul salvation and get acclimated to their new church family; developing into a church body known to love God, and love people, members and visitors alike.

To be intentional regarding the responsibility of the church to reach beyond the four walls of our worship edifice, always looking for ways to engage the community more effectively; starting with evangelizing the Wilmington Road area first, then reaching deeper and farther into the Fayetteville area and the surrounding cities.

To identify the proper application and roles of the ministries, boards, and auxiliaries of SMBC. We will not have 'placeholder' or name-only ministries in the Lord's church. Each ministry must be active, supported and funded or deactivated until such a time as it can effectively carry out The Lord's mission.

To revamp our internal care program to accommodate our widows, homebound and/or hospitalized members; reassign our special populations within our deacon's ministry in order to provide exceptional care and response to the needs of our elderly and sickly; honoring the years of dedication and sacrifice of our more senior church officers by recognizing them through "Emeritus" status. This allows for their wisdom and understanding to be leveraged without taxing them physically and psychologically.
Respectfully Submitted,
Reverend Gregory L. Davis, Pastor
Second Missionary Baptist Church